Join 20,000 others in subscribing for our free regular newsletter and receive access to our library of free feature reports listed below!
+ 50 NEW TRENDING STARTUP BUSINESS IDEAS IN 2017 TO START TODAY
Startup business ideas to start today? They say that genius is one per cent inspiration, ninety-nine per cent perspiration. So how do we get that one spark of inspiration to start today in our startup business dreams? We may be able to help. This free report, "50 New Trending Startup Business Ideas in 2017 To Start Today", brings to you some of the most interesting business ideas in 2017. Read on for more!
+ GLOBAL. NEW. BUSINESS IDEAS: 2016 EDITION
This free 56-pages PDF ebook (worth $50), contain the global new business ideas that are making a world of difference, now. The future is now, and the new wave of innovative smart new business ideas has already arrived to consumers and businesses everywhere in the world. Read our special report "Global. New. Business Ideas: 2016 Edition" to get a glimpse of the now future.
+ 50 UNIQUE BUSINESS IDEAS FROM 2015
This free 32-pages PDF ebook (worth $50), contains 50 one-of-a-kind business ideas which you wished you had thought of, the ones which you let slipped away. Perhaps these brilliant business concepts might had come to your mind if you had an inspiring guide or compilation to take reference from. This interesting guide, 50 Unique Business Ideas from 2015, aims to do just that, challenging your thinking and spurring on your creative self to innovate the most unique business designs and ideas in the new year.
+ LATEST INNOVATION & START-UP BUSINESS IDEAS OF 2014
This free 33-pages PDF ebook (worth $38), Latest Innovation & Start-up Business Ideas of 2014, is a special feature report on the latest and innovative business ideas seen in the world in the past year 2014. In the world of business, entrepreneurs and businesses have to get up to speed quickly. The competition is relentless, and companies are always working to roll out the next big thing. Act fast, and use this 'Latest Innovation & Start-up Business Ideas of 2014' as a handy reference guide in coming up with your own entrepreneurial business idea to take the market by storm. Let us scan the world for the latest cool business ideas so you don't have to.
+ TRENDY BUSINESS IDEAS 2013 REPORT
The free 36-pages PDF ebook (worth $38), Trendy Business Ideas 2013 Report, is CBI's latest business ideas and innovations report. The world is changing and evolving quickly. You can't afford to play catch-up. As an aspiring entrepreneur and business owner, you've got to be ahead of the competition. You have to be keenly aware of the major business ideas, news and trends shaping the future of business and industry. Be in the know by reading this easy guide to some of the most trendy business ideas of the past year in 2013.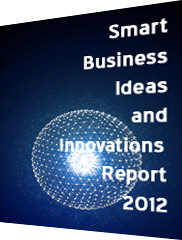 + SMART BUSINESS IDEAS AND INNOVATIONS REPORT 2012

This free 34-pages PDF ebook (worth $38), Smart Business Ideas and Innovations Report 2012, is a special feature report on the smartest and most innovative business ideas coming from 2012. Smart business ideas often occur in a flash of inspiration, but it takes lots of perspiration to make them a success. To help you with the inspiration part, we have prepared a list of the top 50 smart new business ideas which had caught our imagination in 2012. This is the 'Smart Business Ideas and Innovations Report 2012'. We hope you will glean some insights!
+ AWESOME BUSINESS IDEAS OF 2011
This free 29-pages PDF ebook (worth $38), Awesome Business Ideas of 2011, is a special feature report on the smart and innovative business ideas that the world has seen last year. There were plenty of awesome new business ideas happening around the world in 2011 – did you spot one of them in your home country? If you didn't, fret not. This special report, 'Awesome Business Ideas of 2011', will be a helpful brainteaser for you. Go on, go ahead and read all about the most awesome and cool business ideas that we've seen last year.
+ TOP 50 NEW BUSINESS IDEAS IN 2010
This free 23-pages PDF ebook (worth $38), Top 50 New Business Ideas of 2010, is a collection of the most interesting business ideas spotted on CoolBusinessIdeas.com last year. What were the most interesting new business ideas in 2010? Which business innovations were brilliant and outstanding? What went through the minds of the radical entrepreneurs in the past year? If you are interested in the anwers to these questions, you'll find this report a good read.
+ COOL BUSINESS IDEAS IN 2009
This free 28-pages PDF ebook (worth $48), Cool Business Ideas in 2009, is an analysis of innovative and never-seen-before business ideas we've seen worldwide in 2009. As competition for consumers' downsized wallet intensifies in these tough times, it is increasingly important to deliver superior value and whet consumers' natural appetite for all things new and latest. So if you have a brilliant business concept in your head, do not hesitate to make it happen in today's business marketplace. For those of you who don't, fret not. Look within this free 29-page report brought to you by CoolBusinessIdeas.com for inspiration on the coolest new business ideas you wish you'd thought of.
+ BUSINESS TRENDS SPECIAL REPORT 2008
This free 15-pages PDF ebook (worth $28), Business Trends Special Report 2008, puts the spotlight on how nine key developments are shaping the business world. As these trends change the ways in which businesses operate, grow and compete, winners and losers inevitably will emerge. We certainly hope that your business will be one of the winners in this fiercely competitive landscape. As we examine each of these nine business trends in details, we have included specific examples of businesses and companies who are riding on the trends to their massive advantage. At the end of each narrative, we ask ourselves some thinking questions about how best we can exploit the business trend to the fullest.
+ NEW BUSINESS IDEAS REPORT 2007
This free 20-pages PDF ebook (worth $38), New Business Ideas Report 2007, is brought to you by the business ideas hunting team at CoolBusinessIdeas.com. What is this report about? It is an analysis of innovative and never-seen-before business ideas we've seen worldwide this year. Clearly, entrepreneurs around the world are often inspired by common underlying consumer trends when they are working to bring their new business ideas to fruition. We hope that you'll be able to come up with the next big thing after getting to know some of these interesting consumer and business trends behind 2007's new business ideas.
+ 2006'S BEST BUSINESS IDEAS
This 145-pages report, 2006's Best Business Ideas (worth $58), is a compilation of the business ideas and concepts which made it big in 2006. We've included 2005's and 2004's hits as well. As you brainstorm of how to start your own business or how to take your existing business a big step forward in the year 2007 and beyond, learn from how the entrepreneurial mavericks did it in 2006. In every industry from advertising to e-commerce, there'll surely be some interesting new idea or innovation in this report which will hopefully inspire you to your own breakthrough, radical and never-seen-before business vision.

Free Download for all our BIZNESS! newsletter subscribers!
To subscribe to BIZNESS! Newsletter and download your free business ideas annual reports, please fill up the subscription form below.