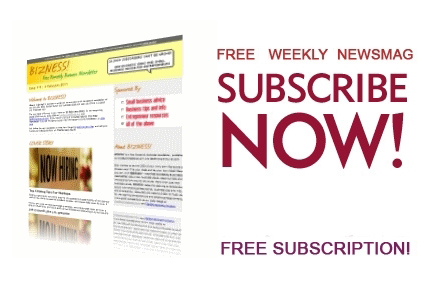 BIZNESS! is a free weekly business newsletter published by CoolBusinessIdeas.com.
Start Your Own Business!
Ever wanted to be the CEO of your very own Uber or Amazon.com? Fire your boss and be your own boss? Now you can, with BIZNESS! – the free weekly business newsletter about new business ideas, opportunities and innovations from around the world. A must-read for the aspiring entrepreneurs and business startups, it is a good complement to our daily stream of new business ideas at CoolBusinessIdeas.com.
20,000+ Subscribers Can't Be Wrong!
Our articles on small business ideas and concepts can be immediately applied to any business anywhere, regardless of whether you're in Singapore or Sweden. Every week, we present these new business ideas opportunities in BIZNESS! which is sent to business professionals worldwide. Our 20,000+ (and still counting!) subscribers include entrepreneurs, CEOs, senior executives, company directors, business consultants, business researchers, marketing managers, business strategists, venture capitalists, and basically anybody who's interested in new entrepreneurial startup business ideas and innovations. Subscribe to BIZNESS! – 20,000+ subscribers can't be wrong!
Free Signup Reports Included
Join 20,000 others in subscribing for our free regular newsletter and receive access to our library of free feature reports! Find out more here.
Here's How You Can Subscribe, FREE!
(1) To subscribe to BIZNESS! Newsletter, please fill up the subscription form below.
(2) Next you'll receive an email message, asking you to click the confirmation link in the email to confirm. This is called a double opt-in procedure. It's for your protection so that no one signs you up without your permission. Click through the link in the email to confirm your subscription.
(3) Once you confirm your subscription, all newsletters will come from the following email address bizness@coolbusinessideas.com, so be sure to add it to your approved sender's list in your email program.
(4) There you have it – it's as simple as that! Thanks for subscribing and reading!